I have been working with one of my favorite products,
Etchall!!!
This stuff is amazing and creates some awesome results. To gear up for the Fall season and to have a fabulous new piece in my home, I created the Vase. I purchased the Vase at Michale's the other day on clearance due to some imperfections of the glass. I thought was a perfe4ct canvas to play with. So here is what I did to create this Vase.
Glass Etched Autumn Vase
I first shopped in the Silhouette Store and found a fabulous file that was perfect for the theme that I wanted to create. The file I chose ( and cut two of) is called "Autumn Leaf Flourish". I placed the vinyl onto the vase and used my
Etchall cream
to etch the image on to the vase using the manufactures instructions.
Once the piece was etched, I wanted to add color to the piece, so I pulled out my
Ranger Alcohol inks
and painted the inside to bring out the design of the piece. Here are the colors I used
* Latte
*Ginger
*Gold
*Cranberry
*Caramel
*Lettuce
Once the piece was colored on the inside I wanted to add some interest to the piece. So I pulled out my Bling Mesh that was in pink and in using the same colors I inked the mesh to match the piece.
The finished result was perfect. I then added the trim to the top and bottom of the Vase.
I finished the piece up with a beautiful bow and added a string of LED Lights to give a warm glowing touch and there you have it!!! An Etched Glass Autumn Vase.
Please look at the pic SLIDESHOW below for details!!!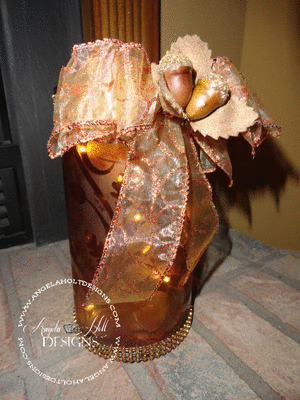 picasion

Your Professional Crafting Educator
Angela Holt